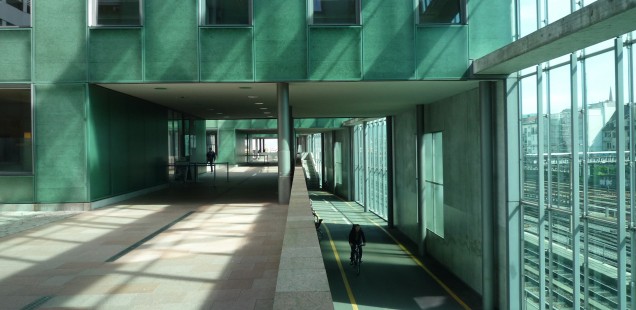 Towards active mobility – Europe
The success story of the private car is impressive. The number of cars started to grow in Europe in the 1960's and initiated the transformation of cities and landscapes. Within the following 30 years the car changed the view on distances and together with the development of air journeys nourished the dream of an unlimited mobility for all.
Cities started expanding to house a growing urban population combined with the separation of the basic urban functions as larger distances could be easily travelled on urban highways. The principal rethinking started in the 1990's in reaction to the growing pressure on the natural environment and because the combination of a high number of motorcars and growing distances turned the pleasure of driving into the annoyance of commuting. Besides environmental problems and the separation of urban functions this generalisation of cars brought also a disruption of social links and new health problems intensified by the transition of the jobs towards office work.
The cities responded and diversified the offer in transport through investments in new metro lines, suburban trains, modern tramway systems, priority bus lanes and car sharing programmes. But high capacity public transport projects need important financial investments, long-term planning and a complex project management. These projects are prestigious, efficient and an important backbone for all large scale urban development, but possess a limited flexibility and often insufficient capacities. The Grand Paris Express, a mayor project to answer the public transport problem in the Greater Paris region, has an estimated cost of 26.6 billion Euros and a construction time until 2030.
Active mobility
Parallel to the investments in public transport emerged the revival of active mobility, walking and biking. Unlike public transport, that still has as main objective to move as many people as possible from one point to another, active mobility will have a stronger impact on the future shape of the cities. Besides moving people and goods and its favourable environmental impact, it gives multiple occasions to use and meet in public space, to bring daily physical exercise and is mentally less stressful then commuting by car or public transport. But it also readjusts the view on distances and the surrounding urban environment. Depending on a physical effort to move, even if assisted by an electric engine in the case of e-bikes, active mobility will strengthen a growing demand by urban dwellers for local centres, for the necessity to redesign cities and retrofit mono-functional zone on the base of small distances and the transformation of neighbourhoods with services for daily needs.
This necessary shift from the private car towards the use of walking and bicycles has a bright future. In the region of Ile-de-France the number of bike trips has doubled between 2001 and 2010, with an average distance travelled by bike of about 2 km. 22% of all bike trips are related to recreation and 38% at work. Today the modal share of cycling in Ile-de-France is between 2 and 3%, which places the region at the same level as cities like London. However this practice is far smaller than other European capitals, with a modal share of cycling of 13% in Berlin, 22% in Amsterdam and 31% in Copenhagen.1 Taking into account the fact that in France trips of less than 3 km represent more than half of all trips an important increase is easily possible. We should just imagine the impact on the region and their urban environment, if the modal share of cycling will quintuple in the next years.
Some cities, like Geneva in Switzerland, started already in the 1990s to look closer on the advantages of active mobility in the city. The federal law of the 4th October 1985 concerning the walkways and walking trails gave a big impulse towards the communication, development and maintenance of a larger pedestrian walkway network.
Shared space
The steady increasing of the use of bicycles and its impact on the quality of live, which has become an essential factor for the attractiveness, demand the cities to redesign the streetscapes, offering new urban infrastructures and to adapt the traffic laws. The coexistence of the different means of transport and their characteristics (speed, movements) had to be organized and regulated to avoid conflicts and accidents. In the region of Ile-de-France the bicycle lanes have almost tripled in thirteen years from 1375 km in 1999 to 3 532 km in late 2012.1
First trends went towards the design of separate lanes for the different types of mobility (pedestrian, bicycle, tramway, bus, cars). But this often leads to quite complex urban situation, to increasing difficulties to cross this succession of traffic lanes as each user insist on his rights on his lane. The recent years showed changes in the choice of the urban street design. In 2007 the bike specific street design (separated bike lanes and separated bus lanes accessible for bikes) represented 73.5% of the bicycle lanes built, against only 53% today.1 The bike specific street design gives way in favour of the shared street with mixed uses and minimizing separations between the different forms of mobility.
These indicators anticipate the end of the period of the separation of transport modes in favour of a « shared city ». One of the preferred development tools is today the speed moderation in urban centres, providing fluidity, security and diversity of functions and uses. A speed moderation is achieved through reduced speed zones, but also simply through mixing the uses of the street. In France the national decree of 30th July 2008 finally authorized the bicycle contraflow lanes. The city of Paris took this opportunity to expand and complete its bicycle lane network with more than 200 km of contraflow lanes. It is in a from traffic congestion appeased city that people are rediscovering to walk or bike.
Innovation and trends

New types of urban bicycles (re-)emerged, like folding bikes, cargo bikes and pedelec, where the rider's pedalling is assisted by a small electric motor. These types of e-bikes offer new possibilities, like giving access to active mobility for older people, use in regions with strong winds or strong land relief, and increasing capacities to transport goods or people on cargo-bike. In Germany around 3.75 million bicycles have been bought new in 2013 and more than one in ten was one with an electric motor. Its market share is now about eleven percent. Five years ago, just 150 000 e-bikes were sold, which was four percent of all new bikes sold. A recent survey showed that almost a quarter of the employees can imagine going with an e-bike to work instead by car and 21 percent can imagine using an e-bike for shopping.2
To keep up with this trend, to organise and strengthen it, cities developed innovative and light house projects. Bike-share systems had been implemented and became a standard urban infrastructure, even in Moscow. In Paris, with the largest bikesharing programme outside of China, 28% of bicycle trips are made with bike-sharing service.
New bicycle highways enlarge the distances easily covered and go out in the suburban areas and cities do not hesitate to develop lighthouse projects like the Hovenring, between the cities of Eindhoven and Veldhoven. Some cities work on future orientated projects like the elevated Skycycle routes in London. A project designed for big metropolitan areas with a technical and functional view on mobility and going back to the concept of the separation of transport. But besides looking ahead, cities have to cope with day-to-day challenges, like finding parking places for the growing number of bicycle in public space.
Placed in a larger context these changes in mobility and a renewed view on proximity are part of a general change in behaviour of the urban populations towards a more sustainable city life. They are linked to movements of local social networks, of recycling and reuse, of urban agriculture and orientated towards a meaningful live and social cohesion. The challenges of climate change, demographics, and social isolation can not be faced by a technology approach only. The change in the habits and practices of the populations are an essential point that should be focussed on in the context of the urban transformation.
This text has been written during the Mentor & Student Research Lab, a common Initiative of ISOCARP and the members of Gdańsk University of Technology. During the Research Lab, the Mobility Boosters team worked on getting the Tri-City in Poland, Gdańsk, Gdynia and Sopot, ready for the major changes in urban mobility.
1 Source: IAU île-de-France, 2014. Les aménagements cyclables en Île-de-France. [pdf] Paris. IAU île-de-France, Available at: < http://www.iau-idf.fr/fileadmin/Etudes/etude_1098/Les_amenagements_cyclables_en_Ile-de-France_juillet_2014.pdf > [Accessed 16 August 2014].
2 Source: 2014. Aber bitte mit Motor. Die Zeit, 04 April.
Author: Christian Horn is the head of the architecture and urban planning office rethink
Do not hesitate to share this post