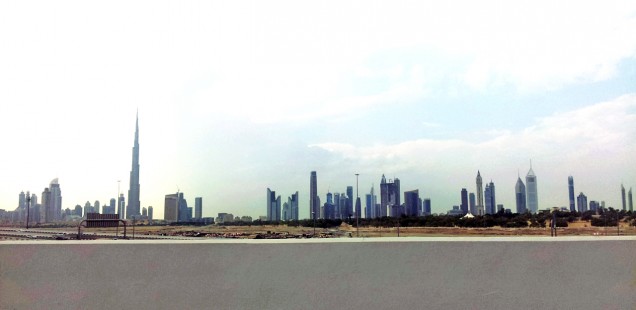 Dubaï, entre marginalisation urbaine et zoning fonctionnel – EAU
Qu'existe-t-il en marge du symbolisme architectural et urbain de Dubaï ? Une ville qui semble avoir tiré profit des Enseignements de Las Vegas (Robert Venturi, 1972) en y appliquant directement les préceptes du néo-libéralisme. L'image incontestée de cette ville reste qualifiée par autant de superlatifs que le plus grand, le plus haut. Et pourtant ce modèle d'urbanisme sur lequel elle s'est construite tend à s'essouffler.
Car Dubaï, née du désert, est alors une ville composée d'ilots urbains enclavés interconnectés par un réseau routier parfois surdimensionné. La ville se détache d'une part à l'est avec la ville ancienne, autour de la crique de Dubaï : un quartier d'habitat populaire et d'activités artisanales, une compacité et une densité des constructions de faibles hauteurs. D'autre part elle se détache à l'ouest avec la ville nouvelle qui prend forme le long de l'autoroute des gratte-ciels, Sheikh Zayed Road : un axe autoroutier le long duquel émergent sans cohérence urbaine les plus hautes tours de la ville. Une scène qui semble allier vitesse et hauteur.
Les deux dernières décennies ont renforcé l'aspiration de la ville à diversifier ses compétences économiques comme facteur de développement urbain. De fait elles ont renforcé le zoning fonctionnel avec l'apparition de clusters. En découle un découpage éponyme: DubaiWorld, DubaiLand, Dubai Global Village, Dubai Internet City, Dubai Media City, qui participe à l'image caricaturale d'un parc d'attraction à travers une image attractive et alléchante pour des investisseurs. En réalité, le processus de sectorisation des activités entraine des espaces urbains spécialisés qui se désolidarisent du tissu urbain existant, ayant pour conséquence un système urbain à la dérive. Il y a aussi dans cette fragmentation urbaine ce que l'on peut appeler un symbolisme franc et décomplexé. Où le signal est à la fois le bâtiment et la forme urbaine au gré bien souvent d'une artificialisation des terres (construire sur mer lorsque le désert aride pousse vers les rives): The Palm I, The Universe, The World, The Palm II… Ces espaces nouveaux d'habitat génèrent eux-mêmes des espaces publics globalisés (mall, parking, clusters, etc.) : dérives de l'appétit des investisseurs. Et un de ces symptômes de la dérive urbaine est le surdimensionnement des équipements mis en place (méga-mall, méga-parking), causé par une surestimation du taux de fréquentation. Ce système tend vers des espaces publics globalisés fantômes, surdimensionnés, en marge de la ville.  …
Ce phénomène produit aussi en marge des aspects de la ville peu flatteurs pour véhiculer une image publicitaire. Car la construction de ce mirage a vu naitre en sa périphérie des formes d'habitat précaire (essentiellement destiné à la main d'œuvre).  D'autre part la focalisation économique sur la ville nouvelle a vu accroitre la précarité des quartiers dits populaires au sein de la ville ancienne. Le laissez-faire de la marginalisation des formes urbaines relève de l'idéalisation de la ville par les autorités : une ville filtrée de ses aspects dérangeants et de sa population appauvrie. Soit la définition de l'urbanisme néolibéral :
« Aux logiques habituelles d'invisibilisation des tissus informels (tracés de voies  rapide, implantations de barres d'immeubles administratifs, etc.) succèdent aujourd'hui des opérations de  destruction totale d'ensembles urbains jugés non conformes aux normes et visions libérales de l'aménagement urbain qui sont celles défendues par les pouvoirs en place. » — ROMAN STADNICKI [Géographe], Carnets de terrain Enquête «géophotographique» aux marges des villes du golfe arabique.
Auteur: A.I.
Do not hesitate to share this post