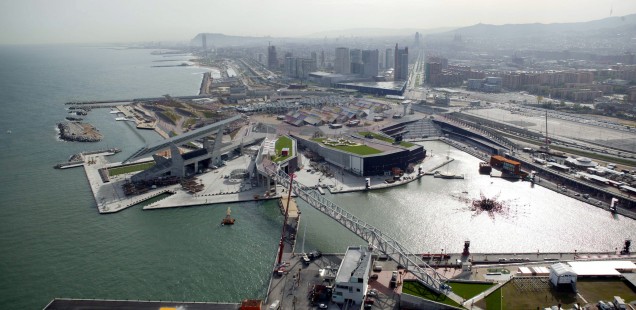 Forum 2004, Konferenz in Barcelona – Spanien
Ein Ausblick auf die Stadt des 21. Jahrhunderts
Barcelona, die Hauptstadt von Katalonien, schaut nach Osten. Nach dem Bau des Flughafens und den Stadien für die Olympischen Spiele 1992 im Westen der Stadt wurde diesen Sommer ein neues 15 ha großes städtebauliches Projekt im Osten der Stadt fertig gestellt.
Das Forum 2004, welches vom 9 Mai bis zum 26 September 2004 dort stattfand und um die 2,5 Millionen Besucher anzog, diente als Anlass und Vorwand, um dieses Projekt in dem kurzen Zeitraum von drei Jahren zu realisieren. Der Event präsentierte sich als ein internationales Zusammentreffen und Ort der Diskussion über die prinzipiellen kulturellen und sozialen Veränderungen des 21. Jahrhunderts mit Ausstellungen und Vorträge über die drei Hauptthemen: Kulturelle Vielfalt, Nachhaltige Entwicklung und Bedingungen für Frieden.
Nach dem Forum werden die 15 ha am Meer in ein Kongresszentrum, einen Yachthafen für 1000 Boote und eine öffentlichen Park mit Strand umgestaltet. Das Ziel ist es, die älteren Industrie- und Wohnviertel im Osten von Barcelona zu sanieren und zusammen mit dem in Planung befindlichen neuen TGV-Bahnhof den Grundstein für eine neue Dynamik für den Umbau des Viertels zu legen.
Im Rahmen des Forums fand vom 8 bis 12 September eine Konferenz über die Entwicklung der Stadt und des städtischen Raumes statt. Die Themen betrafen die verschiedenen Probleme der europäischen, lateinamerikanischen, asiatischen und afrikanischen Städte, die Beziehung zwischen Architektur und Städtebau und die Rolle und Einfluss der öffentlichen und privaten Bauherren bei der Konstruktion der Stadt.
Die Beiträge kamen von Bauherren, Planern und Forschern, u.a. Saskia Sassen mit einem Ausblick auf die wirtschaftliche Entwicklung im 21. Jh., Jaime Lerner, der innovative Bürgermeister der brasilianischen Beispielstadt Curitiba über die erfolgreiche Verwaltung seiner Stadt, Winy Maas von MVRDV über die Beziehung von Architektur und Städtebau, Richard Rogers von RSHP über die den Einfluss private Investoren auf den öffentlichen Raum und Joan Clos, der Bürgermeister von Barcelona über die geplante Entwicklung der Stadt.
Das sich durch die Konferenz ergebende Bild der Städte des 21. Jh. liegen irgendwo zwischen den katastrophischen Szenarien für die schnell wachsenden, erschreckend armen afrikanischen Städte, den Lichtblicken durch den scheinbar kontrollierbaren Wachstum der lateinamerikanischen und asiatischen Städte und dem relativen Stillstand der alternden Städte Europas. Die Aktualität des Themas ist jedoch unübersehbar. Denn heute oder morgen, irgendwann am Anfang des 21. Jh. übertrifft erstmal in der Geschichte der Menschheit die Anzahl der Stadtbewohner die der auf dem Land lebenden Menschen.
Empfohlen für alle interessierten ist der im Rahmen des Forums am 14 September von der UN-Habitat veröffentlichen Reportes: "The State of the World Cities 2004/2005".
Autor: Christian Horn leitet das Architektur und Planungsbüro rethink
Text veröffentlicht in der Deutschen Bauzeitschrift, 10/2004
Do not hesitate to share this post