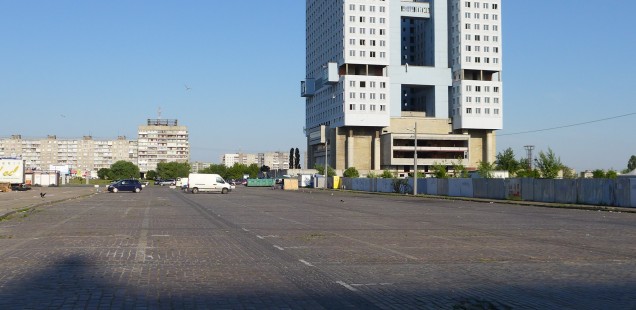 Kaliningrad, das Herz der Stadt – Russland
Kaliningrad ist eine außergewöhnliche Stadt. Auch bekannt als Königsberg (1255 – 1946) ist diese heute die Hauptstadt der Oblast Kaliningrad, einer russischen Exklave zwischen Polen und Litauen. Zu den Kindern der Stadt zählt der Philosoph Immanuel Kant, welcher den Hauptteil seines Lebens in der Stadt verbrachte. Sein Grabmal befindet sich am Königsberger Dom auf der Kneiphof-Insel im Herzen der Stadt. Ein Herz der Stadt, welches sich seit 1944 schrittweise leerte.
Im August 1944 zerstörten Bombardements große Teile des Zentrum um die Kneiphof-Insel und die Altstadt. Die noch übriggebliebenen historischen Bauten wurden dann in der Sowjetzeit beseitigt, so wie 1968 die Überreste des zerstörten Königsberger Schloss. Heute ist das Herz der Stadt ein Negativ der Zeit vor 1944. Geprägt von großen planierten Beton- und Grünflächen hat sich das Stadtzentrum nach Norden verschoben. Die Initiative « The Heart of the City » will dies ändern und setzt sich für die Wiederbebauung des historischen Teil von Kaliningrad ein (http://www.tuwangste.ru)
Durch Forschung, Dokumentation und internationale Architekturevents wirbt sie für eine Renaissance des Gebietes der ehemaligen Altstadt. 2014 wurde ein internationaler Stadtbauwettbewerb durchgeführt und auf der Basis der ersten drei Projekte ein städtebaulicher Rahmenplan erstellt. Diese Jahr wurde in Folge ein internationaler Architekturwettbewerb für ein kulturelles Gebäude auf dem Grundstück des ehemaligen Königsberger Schlosses ausgeschrieben. Die Ergebnisse des Wettbewerbes werden im Herbst bekanntgegeben.
Durch die wirtschaftlich schwierige Situation Russlands ist die Realisierung der Projekt nicht gesichert und die Initiative « Heart of the City » ist auch noch nicht unumstritten in der Stadtverwaltung. Aber sie bietet eine seit langem notwendige und wichtige Plattform für die zukünftige Entwicklung von Kaliningrad.
Autor: Christian Horn leitet das Architektur und Planungsbüro rethink
Texte veröffentlicht in der Zeitschrift Der Architekt, N° 5/2015
Do not hesitate to share this post