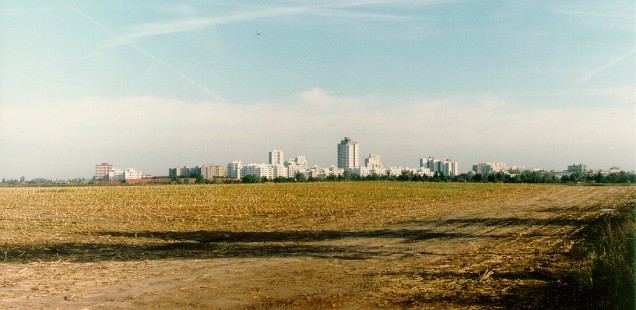 PIDUD Challenging Urbanism – France
How should the rapid changes in 21st-century society influence the methods of urban planners? How can planners promote sustainable development in light of population shifts from traditional city centers?
To answer such questions, the French research organization Sustainable Urban Development (PIDUD) started the new year with a binational event. The French-German colloquium « Cities and the Various Time Scales of Sustainable Development » took place in January 2007.
PIDUD is an interdisciplinary program of the National Center for Scientific Research (CNRS), administered by France's Ministry of Research. PIDUD was created in 2003 to call attention to nonsustainable situations and decisions and to improve the definition of sustainability through international comparative studies.
PIDUD has supported legal and economic analyses and research on various forms of social and economic strata in cities and on how public decisions are negotiated among urban authorities. The colloquium addressed questions about forecasting sustainable urban development in terms of water, depopulation, green areas, housing, and other issues of concern to cities.
The 12 presentations were diverse in approach, content, and form, but two main themes emerged. First, it became apparent that the general notion of sustainability in urban development is not yet clearly defined. Second, the complexity of coordinating time scales in planners' decision-making makes it difficult to predict the future.
Sustainability Implementation
The difficulty of defining sustainability in urban development became clear in lectures about water infrastructure and management by Jens Libbe, from the German Institute of Urban Affairs (DIFU) and Bernard Barraqué, from the French Laboratory of Technology, Territories and Societies (LATTS). They exposed the conflict between sustainable infrastructure management and sustainable water management.
Sustainable management of existing water infrastructures means to maintain and regularly invest in the existing regional network to ensure its long-term functioning. Sustainable water management means a reduction of water consumption, which is happening in Germany and France today through demographic changes, relocation of industries, and water-saving efforts spurred by environmental awareness.
But the reduction in consumption results in a higher cost per water volume because the maintenance costs of the existing infrastructure remain relatively constant and are not directly related to the amount of water being treated. This can lead to the further relocation of water-consuming industries and further water-saving efforts and, ironically, to still higher prices.
But governmental leaders might hesitate to impose higher water prices on consumers and may instead opt to reduce maintenance with the risk of infrastructure deterioration — and higher maintenance costs for future generations.
So why not adapt the network to consumption levels? Planning of networked infrastructures is clearly a long-term process, based on predictions of the future. But planners today recognize that the period of time for which we can produce an accurate forecast has decreased as society becomes more complex, changes have been coming faster, and an increasing number of public and private players have their say in planning decisions.
And without clear knowledge of the future, it is risky to modify existing infrastructure, which will have long-term consequences.
Urban Depopulation
Research on the relationship between sustainable urban development and population density in shrinking city centers was subject of several lectures at the colloquium with case studies from Germany, France, and Great Britain. Manfred Kühn from the German Institute for Regional Development and Structural Planning (IRS) and Cyria Emélianoff from the French Université du Maine explored the contrasts between urban density and suburban dispersal as reflected in the differing urban models: the « compact city » and the « urban landscape. »
Some question whether the « compact city » is the proper manifestation of sustainable urban development or whether suburbanization can lead to new, positive urban forms, with new possibilities, characterized by « patchwork » structures and « fragmentation. » On the other hand, the growing interest in the « urban landscape » model might just be pretence to accept and capitulate to ongoing urban sprawl.
In the first half of the 20th century, in cities like London and Vienna, green areas had been protected through restrictive planning guidelines. Greenbelts were formed around these cities to ensure compactness and to bring nature to the citizens. Green zones are still developed in cities such as Nantes, France.
But history also shows examples of outward growth that could not be contained by greenbelts; suburban development simply leapfrogged over them to more distant areas. Both models contain ecological, economic, and social conflicts. The model of the compact city should not be easily abandoned, but suburbanization is an ongoing process that needs to be understood.
Planning for Sustainability
All the lectures at the January colloquium centered around the role of sustainable development — ecological, economic, and social — in forecasting the future of cities. Throughout the presentations, it became clear that a precise definition of a sustainable urban development is only possible in relation to a specific project and situation and that the practice of incorporating sustainable development in planning is still in its infancy.
Such considerations seem to be still limited to reactive and not proactive processes. For urban infrastructure, they are mainly based on economic constraints introduced through demographic and behavior changes. For density in inner cities and suburbs, they are based on a lack of appropriate land for new construction and on the wish to maintain or increase the central-city population.
Considerations for quality and quantity of housing are based in part on fears of social tensions, and planning procedures change in reaction to growing competition between cities and outlying areas.
Today's changes in urban planning are more a reaction to the economic, ecological, and social consequences of ongoing worldwide changes than visionary actions to avoid future degradations that could compromise the ability of future generations to meet their own needs.
The necessary changes for truly sustainable developments demand the organization and coordination of civil societies, which takes time. However, given the seriousness of the problems, maybe we should hurry up a bit.
Author: Christian Horn is the head of the architecture and urban planning office rethink
Published in « Architecture Week » on the 14th February 2007
Do not hesitate to share this post