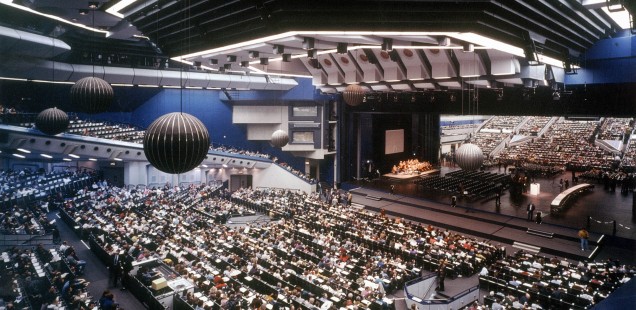 World Congress of Architecture Berlin – Germany
The World Congress of Architecture, in conjunction with the General Assembly of the International Union of Architects (UIA), took place in Berlin this summer. Organized by the UIA and its German section, the Association of German Architects (BDA), the conference centered on the theme of « Resource Architecture, » referring both to technical issues of sustainability and to the cultural resources embodied in our architectural heritage.
For industrial countries, with static or decreasing populations, the recycling of buildings and the animating of town centers seem to have become increasingly important. In contrast, the speakers from Asia, Africa, and South America are more concerned about the effects of rapid growth on their towns.
At a closing press conference, Congress President Andreas Gottlieb Hempel said: « We wanted to offer the congress participants a great diversity in terms of content and presentation, and this has been a complete success. We aimed mainly for innovative, future-oriented contributions and projects by younger fellow architects as well as specialists in other disciplines. »
About 6000 architects, planners, journalists, and politicians took part in five days of events at the International Congress Center and other Berlin venues. Non-German participants represented nearly 58 percent of the delegates, with the largest groups from Brazil, China, France, Greece, and Russia.
There were 34 plenary sessions, forums, workshops, and organizers' work reports. There were also several parallel events nearby, including « PlanCom 2002, »w a trade fair for the construction-related design and planning professions.
More than 40 exhibitions in the center of Berlin and 30 excursions and sight-seeing tours gave an overview of the architectural and urban-design diversity of the German capital 12 years after the country's reunification. « Berlin has been a fascinating, stimulating, and exciting venue for the XXI UIA World Congress, » said Hempel. And for this week, he added, it was the « capital city of architecture. »
The number of participants was lower than at previous congresses, like those in 1996 and 1999, in Barcelona and Beijing, each with about 10,000 participants. One reason might be that the organizers declined to invite many of the most famous architects when their work was not in keeping with the general theme.
International Approaches to Urban Planning
So what can we expect of a conference where 6000 professionals bring so many different viewpoints to the same theme? Some participants were disappointed that they did not get definitive answers, but their expectations may not have been appropriate for the occasion. What participants did receive was a broad and substantive overview of what is happening in the world of architecture and urbanism today.
There was a great diversity in subjects and speakers. Most of them tried to keep close to the general theme. How can architecture respond to today's most urgent problems? And what role can architects play in the sustainable development of our planet?
Santosh Ghosh, from Calcutta, presented a workshop on the limits of « megacities, » discussing the extent of growth and some future perspectives of urban Asian societies. By 2010, according to the United Nations, 18 of the world's 30 largest cities will be in Asia. European and North American cities will disappear from this list except Paris, New York, and Los Angeles.
Ghosh believes that the great future challenges to Asian architects and planners will be their adopting sustainable city planning processes and towns transforming into ecologically oriented ones.
Andrés Escobar showed the first steps of the Metrovivienda project, trying to control urban sprawl in Bogotá, Colombia. A local planning organization buys large and cheap areas around the town, constructs the basic infrastructure, and sells the land at cost to construction companies.
These construction companies are then committed to build simple but decent residential areas and to resell the properties to new residents for a deposit of 1000 dollars. In this way, the planners hope to upgrade the poorer people's living conditions and to gain a certain control over how the town grows.
Further presentations explained new ideas of urban development being tried in Buenos Aires and German approaches to « landscape urbanism, » which is landscape design in large and dense urban agglomerations.
Sustainability at the Building Scale
The Hong Kong Housing Authority, according to representative Ada Y. S. Fung, has been driven down the road of standardization for the past 10 to 15 years by high demand coupled with constraints in cost and construction time. But it has become clear that there are limits to standardization beyond which public housing cannot go without blighting the urban landscape with monotony.
Now the housing authority is searching for ways to improve design quality of public housing while maintaining quality and cost control and reinforcing the diversity of design on which the individuality of any development depends.
American firm Burt Hill Kosar Rittelmann Associates showed the Pittsburgh Convention Center, which they engineered in collaboration with Rafael Viñoly Architects, as an example of new approaches to the design of public buildings in the United States. The building was designed to take advantage of natural ventilation, natural light, and a gray water recycling system. Through these measures, they reduced energy and water consumption while lowering the operating and maintenance cost of the building.
Werner Lang of Munich presented a wooden solar shading louver to be installed between layers of glass in double-skin facades. The embedded energy of this system is about one fourth that of a conventional system made of aluminum.
Pablo La Roche from the University of California at Los Angeles talked about his team's research into simple but effective passive cooling systems for sustainable architecture in warm-climate developing countries. Their goal is to design systems that are inexpensive to build and operate and that can improve the quality of life while helping the environment.
If the UIA World Congress of Architecture in Berlin leads to one common understanding, it may be that architecture, urbanism, and landscape architecture still have important roles in the development of the planet. In all societies, good design of the city and its surroundings will play an increasingly crucial part in promoting a higher quality of life.
It will be interesting to see what happens in the next three years, by the next UIA World Congress that will take place in Istanbul, Turkey, in 2005.
Author: Christian Horn is the head of the architecture and urban planning office rethink
Published in Architecture Week on the 28th August 2002
Do not hesitate to share this post