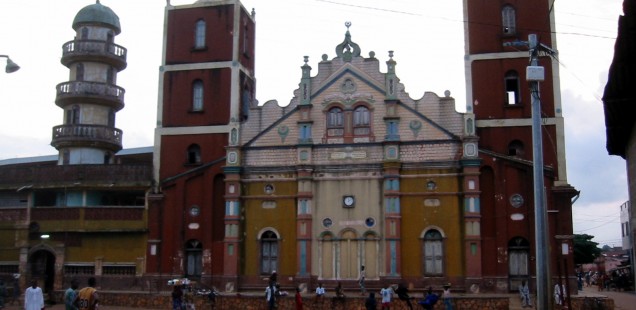 The Great Mosque of Porto-Novo – Benin
Porto-Novo, the capital of Benin in West Africa, is searching for its lost identity since the recent process of decentralisation leaded to the first democratic election of its mayor in 2002. Today the development of the town finds itself in an apparent contradictory situation between the preservation of the past and the quest of modernism.
Porto-Novo possesses an important number of historical buildings that they would like to be listed on the UNESCO World Heritage List. But before the decentralisation the government had already launched a large urban development plan to modernise the town through the creation a new, modern government area that endangers parts of the urban heritage.
The urban heritage is composed mainly out of three historic structures, the vernacular, the African-Brazilian and the colonial tissue. Each urban tissue has its own historical interest, but Gérard Tognimassou, a teacher from the Ecolé du Patrimoine Africain, a school for the preservation of the African cultural heritage, believes that the buildings of the African-Brazilian period are the most divers and the most interesting, as "there is a great craftsmanship in the fusion between the Brazilian and the African styles".
Based on the return of former slaves and their offspring's, who returned from Brazil in the middle of the 19th century, the style developed itself between 1890 and 1950. Most of the men returning to Africa, called the Aguda, started again with nothing and managed through hard work and a good initial formation to become the new middle class of Porto-Novo in the following 50 years. They blended their Brazilian influences with the local African styles to create a new lively, colourful style.
One of the important buildings of this period is the Great Mosque of Porto-Novo. Build in 1923 to 1925 by the African-Brazilian community it is a good example of the high quality of craftsmanship at this time and a precious one, as unfortunately its twin in Lagos, Nigeria, had been destroyed around 1980. The town of Porto-Novo has recently declared it a historic monument and the building is still used for the daily sermons, but the surrounding community has unfortunately lost interest in the building. As M Tognimassou acknowledged, even if there would be the will to renovate the building it would be a long and laborious task as a lot of the knowledge in woodwork, plastering and decoration has been lost.
An international workshop, taking place in November in Porto-Novo and organised by the International Workshops of Planning and Urban Design will hopefully be able to conciliate between the past and the future of Porto-Novo and introduce the idea of a sensitive urban planning in the local mixture of large master plans, protection of the historic monuments and the interests of the local communities.
Author: Christian Horn is leading the architecture and urban planning office Rethink
Text published online in Architecture Week, 09/2005
Do not hesitate to share this post